The Coronavirus (COVID-19) has swept across the world in recent months, starting in China and East Asia, and now infecting dozens of countries around the world.
The rate at which the Coronavirus is spreading is alarming, and alongside its victims, lots of businesses are suffering financially. Hotels and restaurants across China are closed by government decree, passengers are stuck aboard cruise ships around the world, and public gatherings have been banned in several different countries.
Concern about the financial impact of the virus is picking up. On Monday 24th February, the UK FTSE 100 stock index suffered the biggest one-day drop in four years, and stocks around the world took a bettering. Casinos have not escaped the financial squeeze. Just take a look at the Wynn Resorts stock price below.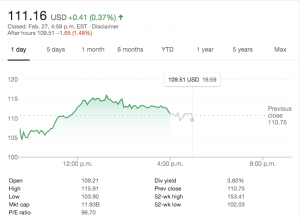 It's almost certain that the financial ramifications of this virus will intensify as it spreads globally, more governments lock down cities and towns to control the spread, and people decide to stay indoors, cancel holidays, and avoid crowded spaces. While casinos in Macau have reopened after a two-week closure, punters are being asked to wear masks. That's hardly the sort of exciting and enjoyable environment that casinos players typically seek.
Singapore casinos are suffering, too. Resorts like Marina Bay Sands rely heavily on Chinese tourists, and with over 500 million Chinese residents currently on lockdown, Singapore casino owners are preparing for financial pain. While Las Vegas casinos have not escaped the financial fallout, there is some cause for optimism. Bank of America is advising traders to buy Wynn and Las Vegas Sands stocks as the number of Coronavirus cases is leveling out in China. However, since this announcement, the virus has seeded in several different countries, including Italy, Iran, and several other countries. Did Bank of America speak too soon? Time will tell.
What Is Coronavirus? Why Are People So Freaked Out?
Coronavirus, now officially called COVID-19, is a flu-like virus that spreads through physical touch and cough droplets. If contracted, symptoms include aches and pains, a temperature, coughing, and in more serious cases, pneumonia. While the virus has a mortality rate of around 2%, according to the WHO, it has stated that it is too early to tell what that rate will ultimately be. The reason for the panic is that it seems to spread so aggressively, and it potentially spreads before symptoms manifest. Some estimates have put the incubation period at up to 14 days. This means that infected people could spread the virus to hundreds or thousands of people before they realize they are sick. This fear of infection will undoubtedly cause people to avoid public places like large land casinos. In turn, this will have an impact on revenue, stock prices, etc. It will likely hit casino resorts especially hard if more headlines about hotels quarantining guests appear in the days and weeks ahead. So far, the worst impacts of the virus have been seen in East Asia, with the pace picking up rapidly in the Middle East and Europe recently. North America has so far escaped a major outbreak, but with such a potentially long incubation period, it may only be a matter of time before that changes. The growing number of cases in the United States suggests that may well be on the cards.
How Can You Stay Safe While Playing at Casinos?
If you do want to continue to play at land-based casinos, there are a few safety precautions that you can take. Wear an N95 mask to cover your nose and mouth. Avoid touching your eyes as this is another entry point for the virus. Wash your hands thoroughly with soap as often as possible, especially after touching dice, cards, and other communal objects in the casino. If anyone around you appears to be sick, whether they be fellow players or casino staff, avoid them. Cough droplets can spread up to six meters, and this increases to up to eight meters from a sneeze. There's no doubt that much of the hysteria surrounding COVID-19 is unwarranted. Seasonal flu kills tens of thousands of people every single year. However, it's probable that Coronavirus panic is just teeing off, and it's a good idea to take all measures necessary to protect yourself when playing at casinos, staying in resorts, or traveling to and from casinos on public transport or via air travel.