It's no secret that lobbyists have an extraordinary amount of influence in Washington DC, for a wide variety of business interests and causes. The casinos and gambling industries are no different. The table below features the ten most significant spenders on lobbying in the gaming sector in 2019.
| | | |
| --- | --- | --- |
| Year | Client / Gambling Interest | Total spend |
| 1 | Gila River Indian Community | $2,125,000 |
| 2 | American Gaming Assn | $1,440,000 |
| 3 | MGM Resorts International | $1,280,000 |
| 4 | Las Vegas Sands | $840,000 |
| 5 | Caesars Entertainment | $672,680 |
| 6 | Cow Creek Band of Umpqua Indians | $490,000 |
| 7 | Lytton Band of Pomo Indians | $470,000 |
| 8 | Forest County Potawatomi Community | $420,000 |
| 9 | Rush Street Gaming | $390,000 |
| 10 | B&D Holding Di Marco Drago e C Sapa | $380,000 |
You'll notice a handful of prominent Indian casino companies included in the list as well. This is because gaming on reservations is federally regulated, unlike other gambling jurisdictions, which are a matter of state's rights. It's also important to note that these corporations aren't all lobbying for the same causes. Many land-based casino businesses are focused on fighting online gambling, while others are trying to push towards legalization in various markets.
Charts: Annual Lobbying and Top Contributors to Political Campaigns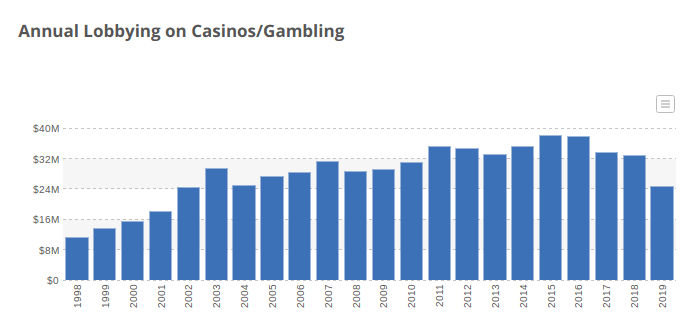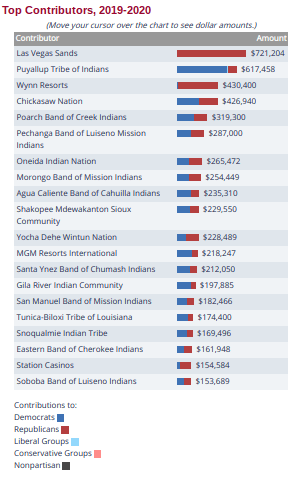 Gila River Indian Community
The top spender on lobbying efforts in 2019 is the Gila River Indian Community – a reservation in Arizona, within the southern region of the Phoenix Metropolitan Area. In 2019, the community spent $2,125,000 – most of which was paid to sixteen lobbyists at the Akin, Gump et al. firm. The Gila River Indian Community opened its first casino in 1994. Today, the reservation features two AAA Four-Diamond Awarded hotels and casinos: Wild Horse Pass and Vee Quiva, as well as a third gambling hall called Lone Butte. Tribal members elect their leadership in the form of sixteen council members – each representing a single district. They also elect a governor and lieutenant governor, which make up the executive branch on the reservation.
American Gaming Association
The American Gaming Association is an industry trade group that represents major casino operators, suppliers of gaming products, representatives of state or regional gaming associations, and financial and professional service companies. The AGA's president is Bill Miller – who was previously the vice-president of the Business Roundtable lobby group. In 2019, Miller's group paid $1,440,000 to lobby congress – mostly on educating elected officials on regulatory and legislative issues impacting the gambling industry.
MGM Resorts International
MGM Resorts International spent the third-most on total lobbying expenditures in 2019, paying $1,280,000 to six different firms. Looking through their lobbying priorities, with regards to gaming, most of MGM's efforts in Washington DC have dealt with issues relating to tribal gaming, the Restoration of Americas Wire Act, and internet gaming, in general. It would appear that the Las Vegas-based hospitality and entertainment corporation is hoping to help legislate some competition out of the market. Their Chairman and CEO, James Murren, has been making cost-cutting measures and layoffs for years now to boost their stock value – which would be consistent with these lobbying efforts.
Las Vegas Sands
Las Vegas Sands Corporation was founded – and is still owned – by Sheldon Adelson. The casino resort company is based in Paradise, Nevada – part of the Las Vegas valley. The company owns hotel and casino resorts in Las Vegas, Macau, and Singapore, and spent $840,000 lobbying the US government in 2019. Like MGM Resorts, the bulk of Las Vegas Sands Corp's efforts went towards issues relating to the federal Wire Act and online gaming – as they have a vested interest in tourists traveling to their resorts over playing online. When the federal government reversed its decision on the legalities of online gambling, New Jersey Attorney General Gurbir Grewal sued for information tied to Adelson's lobbying efforts, saying: "The residents of New Jersey deserve to know why the Justice Department is threatening to come after an industry we legalized years ago. It's especially important that we figure out whether this federal crackdown is the result of a lobbying campaign by a single individual seeking to protect his personal business interests."
Caesars Entertainment
Caesars Entertainment is the third Las Vegas-based casino resort corporation in the top five for lobbying expenditures in 2019. The publicly-traded company, headed by James Hunt, spent $672,680 in Washington DC, with two firms – BGR Group and Brownstein, Hyatt et al. – working congress on their behalf. Like the other groups operating land-based establishments, Caesars' primary concerns for their lobbying dollars are regulating internet gambling and sports betting. Of their nine lobbying reports submitted to Congress, all of them dealt with online gaming, consumer protections, and enforcement. That said, Caesars' 2019 lobbyist spending is relatively low, compared to the majority of the past decade. After dramatically increasing efforts in Washington DC in 2009, 2019 saw their fewest dollars spent on lobbying since 2008.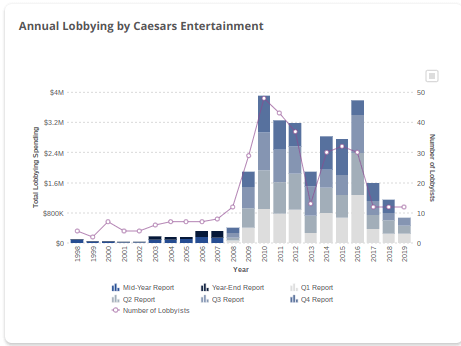 Cow Creek Band of Umpqua Indians
The Cow Creek Band of Umpqua Indians is a federally recognized tribal government located in Oregon. The tribe consists of roughly 1,400 members and operates the Seven Feathers Casino Resort in Canyonville, Oregon. In 2019, the Cow Creek Band spent $490,000 on lobbying the US Congress over a slate of different issues – including gaming. Three of their five lobbying reports submitted to Congress deal with "General tribal gaming issues; issues relating to reservations." However, another two relate to "opposing off-reservation gaming proposal," assumedly in an effort to maintain their monopoly on gambling in southern Oregon. The Cow Creek Tribe's casino resort is owned by the entirety of the members. Leadership responsibilities fall upon the Tribal Board of Directors, which consists of eleven elected council members.
Lytton Band of Pomo Indians
The Lytton Band of Pomo Indians is a federally recognized tribe consisting of 275 Pomo Native Americans. The tribe owns a casino in San Pablo, called the San Pablo Lytton Casino – which is the focal point of their lobbying efforts in the gambling industry. The casino started as a cardroom in 1994, since the Indian Gaming Regulatory Act only allowed tribes that already owned their land prior to 1988 to operate casinos. However, Bill Clinton's signing of the Omnibus Indian Advancement Act of 2000, the Lytton Band of Pomo Indians were able to upgrade the establishment to a full-fledged casino. While this tribe spent $470,000 on lobbying in 2019, most of their issues were pertaining to the Lytton Rancheria Homelands Act of 2019, which would give them additional land in Sonoma County, California.
Forest County Potawatomi Community
The Forest County Potawatomi Community totaled $420,000 in lobbying expenditures in 2019. Located across multiple non-contiguous areas throughout Wisconsin, the tribe owns and operates two casino resorts in the state: the Potawatomi Hotel & Casino in Milwaukee and the Potawatomi Bingo Northern Lights Casino in Carter, Wisconsin. The Forest County Potawatomi filed five lobbying reports to Congress in 2019, dealing with "gaming issues," and "Indian gaming, Gaming compact Tribal gaming legislation," respectively. Tribal leadership is managed by an Executive Council composed of elected officers.
Rush Street Gaming
Rush Street Gaming is a company headquartered in Chicago that builds casinos on tribal land throughout the United States. Rush Street works with the communities on which their establishments will be developed and shares in the revenue. Their co-founder and CEO is Greg Carlin, a former investment banker. They first began spending money on lobbying in 2017, when they only spent $80,000 for the year. That figure ballooned up to $310,000 last year, before reaching $390,000 in 2019. Much of their most recent expenditures have gone towards, "Gaming policy, including legislation affecting gaming in Massachusetts. S.2628/H.R.5244: Mashpee Wampanoag Tribe Reservation Reaffirmation Act." Rush Street has already built casinos in Des Plaines, IL, Pittsburgh, PA, Schenectady, NY, and Philadelphia, PA. According to their 2019 lobbying totals, it appears an establishment in Massachusetts is next.
B&D Holding Di Marco Drago e C Sapa
B&D Holding di Marco Drago e C Sapa is an investment holding company headquartered in Italy. Lorenzo Pellicioli, the Chairman of International Gaming Technology Plc (IGT), is a Director and Partner at B&D Holding. Similarly, the investment company's Chairman, Marco Drago, is a non-executive Director at IGT. In 2019, this company spent $380,000 on lobbying on behalf of its subsidiaries: IGT Global Solutions and International Game Technology. All of their efforts in Washington DC have gone towards issues associated with online gambling and the Wire Act.
In Conclusion
As you can see, large gaming corporations are spending significant sums of money to lobby the US government in their favor. Online gambling and sports betting are becoming increasingly popular and accepted throughout the country, meaning there are lots of potential profits out there on the line. In Las Vegas, you have the resort moguls trying to fight the spread of internet gaming and alternative options to traveling to legalized jurisdictions. Meanwhile, Native American tribes are pushing to protect their own establishments and possibly grow. Lastly, you have international companies like IGT, hoping to open things up online. It's also worth mentioning that lobbying isn't specific to the United States. You'll find similar gambling industry lobbyist groups in the UK, Australia, and Canada – among others.